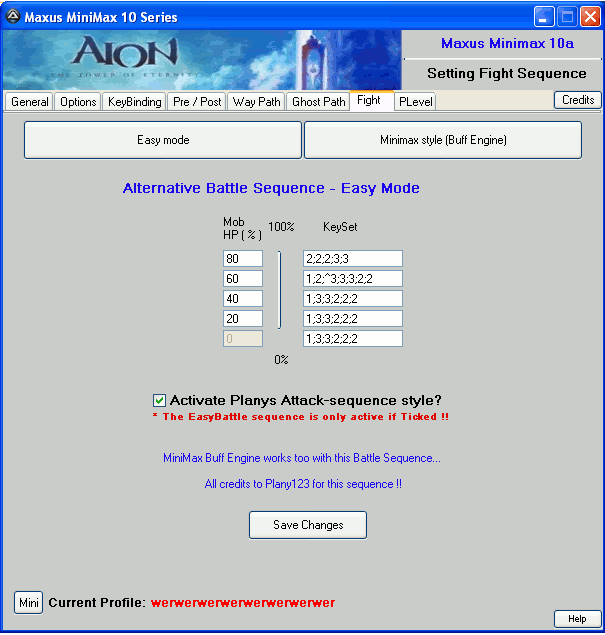 This is a Demo Version of Maxus MiniMax 10 Series…
its meant for the followers of my project here…
!!! Thank you P5ylo for your help with the new GUI !!!
lots of new gui features added… double click to edit etc…
The GUI is Translated to 3/4 but still a few things need to
be worked on like status msg etc… the language selection
is save in setup.ini under Default Profile…
have a try and let me know what you think…
Most recent version: Maxus Minimax 10b_3
Special Thanks to:
Unknown   – Orig. Creator of the open source project
Plany123  – Co Creator
Jatacid   – learned lots of stuff from his gathering bot
Kknb      – made the getDistance() func
Demon   – beta tester
just to mention a few who contributed to this project !
Features:
– 100% Trojan/Spyware/virus free
– 100% for Free and will always be
– Start the bot where ever near your WPs/GPs..
– Warps home if off Track (GM warp detection..)
– Skipps targets if unreachable
– Record clicks to: Sell stuff.. store stuff… fly to… change channel etc )
– Add custom sleep time at certain WP/GP
– Added custom jumps (glide ;D )
– Offset loader
– Download new offsets (for comming updates past 1.9.0.1) *dont use it yet -.-
– added multip. language… 80% done… feel free to post your language.ini
– Gather mode (ground and flight)
– fly to camp…
– fight on way to camp … or gather only mode
– Record Jumps
– Memwrite Navigation option
– Updated frequently
– Save/load profiles
– Waypoints & Ghostpoints (waypoints AT camp and ghostpoints TO camp )
– Release corps / Quit Aion / Shutdowntimer /Shutdown Pc
– Recorder for WPs & GPs
– Load offsets for your Aion version ( vers. 1.5.1.4 up to 1.5.1.8 supported )
– Nearly real-time triple Anti-stuck ( wp > wp  / wp > mob / sight )
– Agro/link detection (after looting and moving from WP > WP )
– Give your bot an unique name (Taskmanager / anti bot prot.)
– Randomize all wait timers (anti bot protection)
– Blacklist mob names (Mob ID button will be back soon )
– Whitelist mob names
– Use Postcast for HP and MP only if needed (set triggers)
– Moves to optimal fighting range
– Calculates optimal WP/GP (skips if to close or too far )
– Emergency cast
– Buff System
– Remembers your last keyset/camp -> once set up: Start exe and run bot
and lots more
How does the bot work:
While running to the next WP the bot is Tabbing to seek for a valid
target… once found:
it gets in distance  > Buffs up  > Precast > Battle Sequence loop until the mob is dead (emergency checks) …
it will autom. loot  > agro check > Postcast HP > Postcast MP > REGenerateHP/MP? > moves to next WP
FAQ:
– The bot ONLY READS from memory (flight mode has forced Memwrite… impossible else…)
– The bot only works with Aion Client in Focus (no background mode )
– Make sure to ENABLE auto approach target in Option
– Use standard Keyboard setup in Aion (movement keys and mousewheel click)
– At first Start input a Botname on Misc layer , Keysetname on Basic layer
– Make sure you are near 50m of a Waypoint for "Runbot" and near a Ghostpoint for "Go to camp"
– Most of the input files have tooltips if you hover over with the mouse! (input sec, min etc?)
– Use WP/GP recorder or set points manual with Keypad + and – key (set points every 5-10m)$
– For Instant cast time input like 600-1000ms
– The bot only fights mobs above lvl3
– After manual edit of the battle sequence (ini file) don't forget to save it and refresh the list in bot
– Fighting on spot fixed (you can even Setup GPs to a Camp with 0 Wps
– If you play on a Private Server you need to load the right offsets for that version (1.5.1.4 to 1.5.1.7 incl. )
– Bot will attack targets within your Max distance set +20m (36m is max distance you can target a mob with tab )
– Set your max range to your pulling distance ( voke like 13m , mage abilities up to 23m )
– Combo input box -> set how many times you want to spam the same button
– check tooltips if you need to input values in min. , sec. or millisecond.
– Casttime = Time THE BOT should wait until he moves to the next attack in line
– Cooldown = Time that needs to pass until the bot will do this attack again
– As you see timer have not much to do with the in game timers ( Bot-timer >= in game timer )
Samples for Setup with a mage (sorc.):
CT = Time to wait until next Attack
CD = How often do you want the bot to cast it (for me 35sec = once per fight / depends on mob lvl etc)
Precast: Ice Chain combo to Frozen Shock
Ice Chain Casttime 2sec , Cooldown 10sec
Frozen Shock CT 0 sec , CD 30sec
Now if you count the sec how long it takes after finishing casting
and the Combo item starts blinking in your attack bar.. thats about
1 sec for this combo..
Now put this together…
-> CT: 2200 ( 2000ms would be enough but see below **)
-> CD: 10 ( 10sec for CD of first spell .. use 30 for only full chain)
-> Combo: 2 (After casting it needs 1sec for combo to be read)
( 2 x 1/4 Casttime of 2200 are about that 1 sec… so input 2 … )
(** I took 2200 instead of 2000 for smoother combos)
———————————————————————————
Attack1: Stoneskin CT: Instant CD: 2min
Buff Last: 5min or 600damage (600 dmg is first so spam every 2min)
-> CT: 800 (Instant = 800 casttime … always !! )
-> CD: 121 ( 121 sec = ca. 2 min … )
-> Comb: x (No Combo used … X it out )
-> Max: (Ticked Max cause I want to use stoneskin far away..)
———————————————————————————
Attack2: Delayed Blast CT: 2sec CD: 30sec
-> CT: 2000
-> CD: 40 ( 40 cause I don't kill the mob within 30sec.. but nvm)
-> Max: (ticked cause it's a ranged spell)
———————————————————————————
Attack3: Robe of Flame CT: 0sec CD: 10sec Last: 30min
-> CT: 800 (cause its instant…)
-> CD: 1800 ( input 30min in sec as buff duration)
———————————————————————————
Attack4: Flame Harpoon CT: 2sec CD: 6sec
-> CT: 2000
-> CD: 6
———————————————————————————
Attack5: Flame Bolt CT: 2sec CD: 1sec Combo !!
-> CT: 2200 ( a bit more to tune smoother combo)
-> CD: 6 (if you take the real 1 sec it will only spam Atck5..
take 6 like lowest in serie)
-> Combo: 4 (Equals a double combo… higher value longer combo)
———————————————————————————
All timers cannot be lower than your in game value (but higher…)
DOWNLOAD:HOTFİLE:Aion Maxus Minimax 10 Demo
DOWNLOAD:UPLOADİNG:Aion Maxus Minimax 10 Demo
DOWNLOAD:sharingmatrix:Aion Maxus Minimax 10 Demo
Youtube Kanalımıza Abone Olmak için Alltaki Youtube Simgesine Tıklayıp Abone Olunuz Teşekkürler
Youtube Abone Olmak için Tıklayınız Buraya