We have found some images of new Club Penguin Books coming soon.
These books may allow you to unlock items online, or may not.
The first Book is called: "Disney Club Penguin Shadow Guy and Gamma Gal Heroes Unite", and it probably has to do with the play called like that.
It is going to be released August 24 and its price is going to be $8.50.
Another book will be called "The Awesome Official Guide to Club Penguin – Expanded Edition". It is also coming out on August 24 and it will cost $11. It seems to be the continuation of the book "The Official Guide to Club Penguin".
The "Disney Club Penguin Poster Book" is being released to the public July 13, costing $10.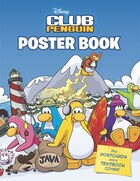 Finally, the "Disney Club Penguin Book of Activities" is to come out on April 20th with the cost of $7.50.
I'm looking forward to reading the new books. ClubPenguinCp.com will keep you updated with more info about them. The codes will be posted at the time they are released.